* * Recent Articles * *
April 2, 2013
Just a quick announcement to let folks know that the first Tactical Hex Map set in the Game Tools line – Woodland Set I – is now available for sale in our online store. Not sure what the Tactical Hex Maps are all about? Check out the description of the set here, the instructions for using it here and a sample map here.
April 1, 2013
We are really excited to announce the launch of a new line of products for us – the Tactical Assault: Game Tools™.  The Game Tools are a line of gaming aids intended to help players get more out of their favorite games by saving them preparation time, giving them a variety of components to use and even by creatively adapting the way their games can be played.
While most of the products in the line will be designed with an eye towards their use with the Tactical Assault: Combat Cards™ or the Tactical Assault: Fantasy Cards™, all of the Game Tools are easily tweaked to work with just about any other game system or genre – from tabletop miniatures to role-playing and board games.
To illustrate the point (and to show off a bit) here is a preview one of our first offerings in the line: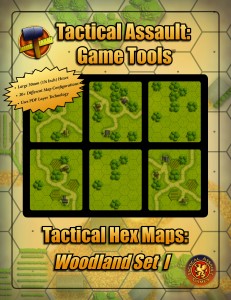 March 28, 2013
Our friend Mac Walker has posted another great visual Combat Cards battle report in his blog, which you can check out here:
For this battle Mac has also incorporated the Technology Cards as well as an "area" movement method somewhat similar to the Legendary Battles rules.  These, along with the fascinating "historical" periods he taps for his scenarios, make his battles all very interesting.
Thanks for sharing Mac!
« Newer Entries — Older Entries »